Innovative Silicon Crystals for ATR-FTIR
The IRUBIS Single Reflection Cystals are suitable for Attenuated Total Reflectance Fourier Transform Infrared Spectroscopy.
All products can be used with standard FTIR devices.
Universal
Basic Single Reflection
ATR Crystal
The basic version of our crystal has the same performance as a single bounce diamond crystal and a broad spectral range. The short optical path makes the fingerprint region accessible.
Specialized 1
Low Penetration Depth
ATR Crystal
This crystal has a high angle of incidence and thus a reduced penetration depth. This version is suitable for various applications such as Surface Enhanced Infrared Absorption Spectroscopy (SEIRAS).
Specialized 2
Signal Enhanced
ATR Crystal
The patent-granted microstructures on the surface of this crystal lead to a better signal-to-noise ratio and enhance the IR signal. The result is a higher absorption and thus more distinct peaks.
You can find the IRUBIS technology in different collaboration products.
Auto ATR
ATR Microplate Reader
In cooperation with PIKE Technologies, we developed AutoATR. This device allows the measurement of 24 samples within one run.
J1
Spectroelectrochemical ATR Cell
The J1 by Jackfish SEC is a complete three-electrode electrochemical cell for ATR-SEIRAS using our optimized crystals.
Custom Products
Contact us for special requests.
Interested to integrate our crystals into various products? Possible modifications include various coatings, coupling fiber optics, & more!
Obsidian Accessory
A compatible accessory system, optimized for your needs.
Innovation
The Obsidian is a 3D printed accessory system for ATR infrared spectroscopy. Please ask IRUBIS for a DIY Instruction to print and assemble it by yourself. Altenativly you could use the 3D printed accessory by Baumgartner, 2020.
IRUBIS Obsidian is a universal tool and suitable for all standard FTIR spectrometers with a 2" x 3" slide mount holder. It is the easiest way to integrate the IRUBIS crystals into your device.
Components
The accessory system consists of the core module and a universal top plate. The IRUBIS crystals fit perfectly into the recess. Depending on your samples and application, you can choose between two add-ons to modify your top plate:
Plate with Well
Flow Cell
Specular Reflection ATR Accessory
Technical Details
Compatible with standard 2" x 3" slide mount holders
Dimensions: 8 cm x 5 cm x 4 cm (height x width x depth)
Wavelength range from UV to far-IR
Angle of incidence: 20°
Material: Polyamide
Spectral Characteristics
The Specular Reflection ATR Accessory is perfect for liquids and soft samples and can be used for a wavelength range from UV to far-IR. The angle of incidence is 20 degrees.
Choose the right top plate add-on
Pick one of our three add-ons for the perfect results.
Plate with Well
You can increase the volume capacity by mounting an additional plate on the universal top plate.
Recommended use: liquid samples, larger volumes
Please note: The plate is made of synthetic resin. Do not use acetone for cleaning.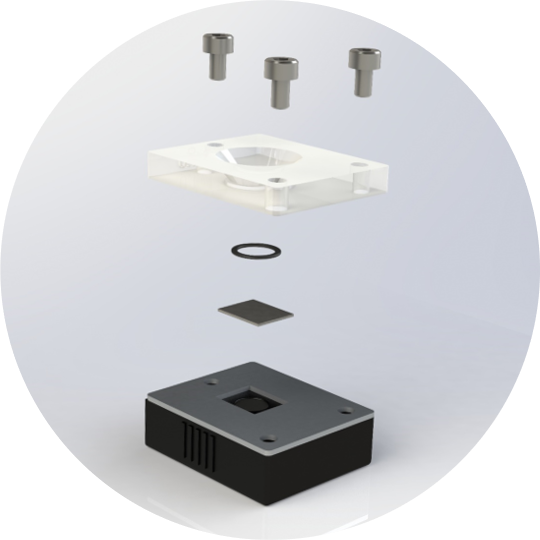 Flow Cell
For continuous monitoring a flow cell can be mounted on the base plate. A channel with a diameter of 2 mm inside the cell directs the liquid sample to the crystal.
The assembly is simple and allows easy cleaning of the crystal and the cell after measurement.
Please note: The sealing for the flow cell is made of EPDM. The flow cell is made of synthetic resin. Do not use acetone for cleaning.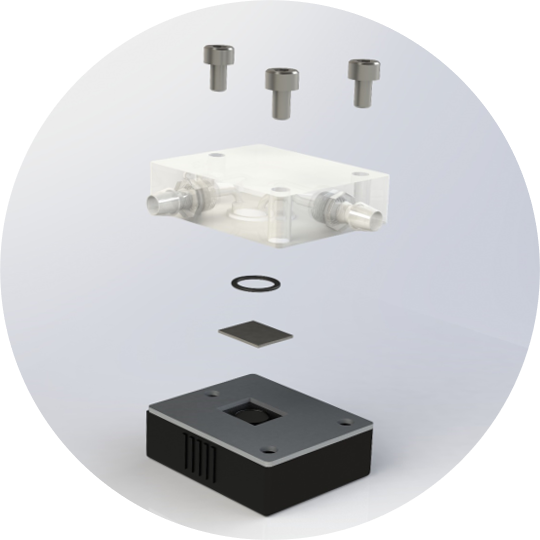 Order IRUBIS ATR Crystals
ATR CRYSTALS: Universal and Specialized 1
| | |
| --- | --- |
| Quantity (pcs) | Price per Unit (€) |
| 10 | 52 |
| 20 | 49.50 |
| > 49 | On Request |
Use this form to send an inquiry. We will come back to you as soon as possible with an official offer. Alternatively, you can also send an email to sales@irubis.com.
All prices are displayed without sales tax and are subject to change.
Shipping within Germany: 10 €
International shipping: 30 €
Express Shipping: 100 €
Accepted payment methods: Bank transfer, credit card (Visa, Mastercard, American Express), PayPal.
What is the spectral range for the ATR crystals?
You could find some example spectra here. The ATR crystals are suitable for the range 900–5000 cm-1.
How can I clean my ATR crystal?
For organic substances you could use Peroxomonosulphuric acid. For other substances it's possible to clean them with ethanol or isopropanol. Please make sure, not to exert mechanical pressure.
Can I measure solid samples with my ATR crystal?
Please use the ATR crystals only for liquid samples. They are 0.5 mm thin and not robust for mechanical pressure.
Are gold coatings or other coatings applied to the IRUBIS ATR crystal?
What kind of ATR crystal should I use for my SEIRA or electrochemical experiments?
How could I get the Obsidian Accessory?
Unfortunately, IRUBIS don't sell the Obsidian Accessory any more. Please send us a message to get DIY instructions.
Are the ATR crystals compatible with benchtop spectrometers?
The IRUBIS ATR crystal can be easily integrated to the IRUBIS Obsidian Accessory. The Obsidian Accessory can be used with a standard slide mount holder or transmission holder of other bench top spectrometers.
Is the Obsidian Accessory compatible with the Cary 630 (Agilent) ?
Yes, the Obsidian Accessory is compatible with the transmission modul for the Cary 630.
How can I use IRUBIS ATR crystals on VeeMax?
To use our crystals with VeeMAX you lay them on top of the plate with the small hole. For a fix mounting please use our ATR crystal in combination with the IRUBIS Obsidian Accessory and a 2"x3" holder.
Can I purchase the J1 Spectro electrochemical ATR Cell at IRUBIS?