Infrared Difference Spectroscopy with Innovative Silicon Transmission Cells
Customizable Transmission Cell


Our transmission cell is especially designed for difference spectroscopy. Two or more parallel canals are measured simultaneously in an IR microscope. You can use FTIR or QCL microscopes.
Feel free to contact us with your requests for custom microfluidic cells.
Advantages
Water vapour bands are eliminated
Detector drift is avoided
Intensity fluctuation of the source are eliminated
Fluctuations in the thickness of the cell do not affect the result due to the small distance
Very low sample volume (picoliter)
Applications
Protein analytics
Label-free microfluidic cytometry (life cell imaging)
High throughput through parallelisation of measurements
Flow chemistry
Technical Details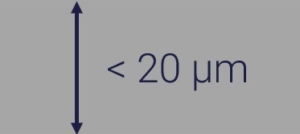 The cell is made out of two silicon wafers. The gap between the wavers has a maximum thickness of 20 µm, the width can be varied as desired.
In separate channels the sample and a reference can be measured simultaneously.